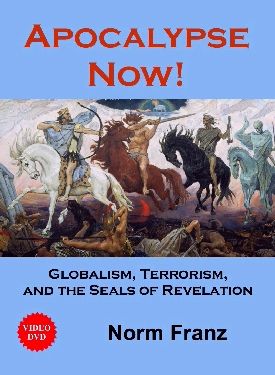 Apocalypse Now! (6 DVDs)
As our current world order continues to crumble under unremitting crises, many people are taking another look at the Book of Revelation and asking, "Are we there yet?"  It seems as though, just overnight, we have been thrust into the Apocalypse, but where exactly are we, and what is coming next?
Apocalypse Now! is a Torah based teaching that offers an up-to-date interpretation of the seven seals in Revelation 6.  It examines each seal in the prophetic light of today's war between Globalism and Terrorism and unravels their plans for global domination.  As the world rushes toward the Lord's return, this in-depth study presents a comprehensive timeline of where we have been, where we are now, and where we are going next.
Session 1: The First Seal
Antichrist, Globalism and the New World Order Movement
Session 2: The Second Seal
Hegelian Wars and the Great Sword
Session 3: The Third Seal
Dishonest Scales and Global Economic Crises
Session 4: The Fourth Seal
"The Sword of Islam," Biochemical Weapons and Killer Viruses
Session 5: The Fifth Seal
Radical Islam and New Covenant Martyrs
Session 6: The Sixth and Seventh Seals
Nuclear War and the Seven Trumpet Angels