Biblical Response to the New World Order (6 DVDs)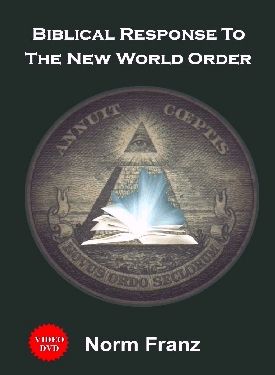 Biblical Response to the New World Order (6 DVDs)
As continued global crises dictate continued global change, the nations are being forced into a draconian New World Order (NWO). Growing awareness of this worldwide transition and its role in end time prophecy has birthed a host of proposed responses in the Judeo-Christian community. Everything from civil uprising and armed revolution to complete pacifism and blind obedience has been offered as ecclesiastical retorts to this advancing beast system. 

Biblical Response To The New World Order lays out the Scriptural history of NWO empires since the "Tower of Babel", and clearly explains why God allows them. It draws the distinction between civil government ("the things of Caesar") and sovereign church government ("the things of God") and outlines the limits that Scripture places on each one. It also addresses unrighteous taxation by an oppressive government and explains whether or not New Testament believers can take up arms to overthrow that government.
Lastly, it offers timeless Torah-based answers to specific questions from the audience regarding forced abortion, forced vaccinations, gun control, home schooling, F.E.M.A. camps, mark of the beast applications and more. It is truly a biblical survivor's guide for overcoming the New World Order of the last days.
Sessions Include:
Understanding The Times
End Time Financial Crisis And How To Prepare For It
Israel, Islam And The Future Of The Middle East
The Mystery Religion Of Antichrist
God's Call To Prepare (Physical Preparation)
The Cry Of The Prophets (Soul & Spirit Preparation)