Money & Wealth and the New Millennium (Package)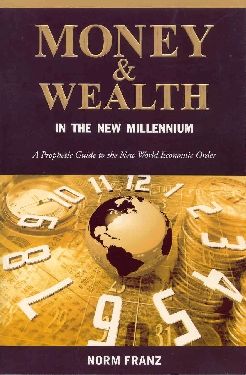 Money & Wealth and the New Millennium (Package)
Money and Wealth in the New Millenium
Financial Education Package
Money and Wealth in the New Millennium is a Bible–based financial education package that unravels the economic mysteries of the last days and offers practical solutions for overcoming the great end time financial shaking. Package includes the following three items:
Money and Wealth in the New Millennium Bestselling Book
 A one-of-a-kind prophetic guide to the New World Economic Order that clarifies the problems plaguing the world financial system and gives clear direction on what to do about. 


Money and Wealth in the New Millennium 
Financial Seminar on 4 Video DVD's
(Order Separately) A cutting edge (4 hour) financial seminar that reveals how today's global financial crisis is forcing the nations into a New World Order and where this event appears in Bible prophecy. 


(Available in Package Only) Biblical Principles of Lending and Borrowing is a special report explaining the scriptural use of debt in today's financial world. It also clarifies how the "Year of Jubilee" and the "Seven Year Debt Cancellation" cycles work.