Prepare! Prepare! Prepare! (2 DVDs)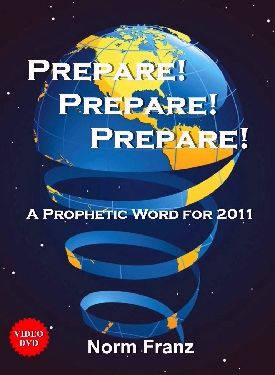 Prepare! Prepare! Prepare! (2 DVDs)
"A prudent person foresees danger and takes precautions.The simpleton goes blindly on and suffers the consequences."
- Proverbs 27:12 

NLT
The Word of the Lord for 2011 is "Prepare, Prepare, Prepare". This teaching is a prophetic update on what to expect in 2011 and early 2012 and how to prepare for it.  It is based on the prophetic word given by Norm Franz on August 7, 2010, and includes:
The timeline of where we are in the global transition to a New World Order and the tribulation that this transition will bring.
The real possibility for having one or more serious military conflicts in 2011-12 and where those wars are in Scripture.
How the battle between the true Torah-based prophets and the false prophets of the great end time apostasy will move to a new level.
The Biblical importance of why and how God's people should physically prepare when they see that undeniable crisis is coming.
A word from the Lord that encourages us not to be scared, but to be prepared in spirit, soul and body for the days ahead.