Report from Roswell (1 DVD)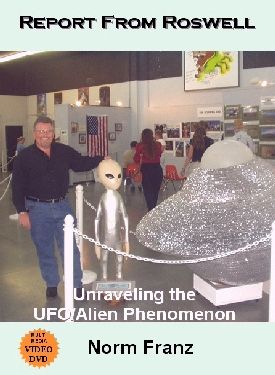 Report from Roswell (1 DVD)
In early July 2005, Norm Franz spoke at the annual "Ancient of Days UFO Conference" in Roswell, NM. This conference addressed the UFO/alien phenomenon from a biblical perspective that revealed the true origins of extraterrestrial sightings. "Report From Roswell" is a prophetic teaching that incorporates elements of the Roswell conference into the history of the UFO phenomenon worldwide. The last day of the conference (July 4th) was held in the legendary "Hanger 84", which was opened to the public for only the second time since the alleged 1947 incident. "Report From Roswell" is a pulsating Biblical exposé on what the Bible says about UFOs that is sure to bless you. This DVD contains pictures and information on:
The Roswell crash site and "Hanger 84"
The alleged alien autopsy
A live UFO sighting video taped by ABC News in Las Vegas, NV (June 2005)
How Hollywood and the secular news media are conditioning mankind for the "strong delusion" of the last days (2 Thes. 2:11)
How some UFO cults worship an alien called Yahweh (includes picture of alien)
The clear connection between Satan worship and the worship of aliens
How the E.T. phenomenon relates to the "days of Noah" in Bible prophecy
This phenomenon is undoubtedly part of end time events, so we strongly encourage you to share this DVD with family and friends. We especially encourage you to show it to your children, since they are a primary target of the enemy's end time deception.