The Promised Land of Israel - Past, Present and Future (4 DVDs)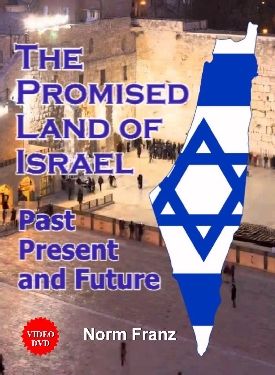 The Promised Land of Israel - Past, Present and Future (4 DVDs)
"On that day the LORD made a covenant with Abram, saying,'To your descendants I have given this land…'
— Genesis 15:18 
In the last days, Scripture teaches that the conflict surrounding who owns the Promised Land of Israel and the city of Jerusalem will become the primary geopolitical focus of the nations. That is why New Testament Christians must understand what God's Word says about this and how that plays out in the last days.
 The Promised Land of Israel takes a prophetic look at the boundaries of the land God (YAHWEH) gave to Abraham, Isaac, and Jacob (Israel). It explains how Israel lost possession of it and identifies the different empires that controlled it up until 1948. From there, it reveals how the LORD has been, and will continue to systematically restore the Promised Land to His ancient Jewish people.
 This Scripture-filled teaching series (complete with biblical maps) answers questions such as:
What is the difference between God's covenant with Abraham, Isaac and Jacob (Israel) and His covenant with Ishmael, Esau and the Arab people?
How do the boundaries of the greater Promised Land differ from the boundaries of the lesser Promised Land of Canaan?
What prophetic wars have been fought since 1948, what wars are manifesting now, and what end time wars are scheduled for the near future? 
Is the antichrist a Muslim and is Islam the one world religion of the last days?
What happens to Islam and the individual Arab countries who come against Israel?